Sat., Oct. 23, 2010, 6:15 a.m.
Idaho Dad: Of Trash-Talking 9YO Girls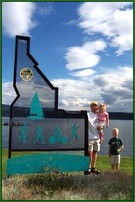 Maybe I'm out of step with society, but I don't care much for the trash talking that goes on in sports. It doesn't strike me as something that fits with the ideals of sportsmanship and fair play. You can imagine how disgusted I was at my daughter's recent soccer game to hear 4 or 5 members of the opposing team talking trash throughout the second half of the match. They had taken a lead of 5-1 and apparently felt comfortable enough to start in with the insults and name-calling. Yelling at the goalie, "You're the worst goalie ever," and "We can score on you all day long." Taunting the forwards, "I'm going to do cartwheels and you still can't score on us." Stealing the ball away from a midfielder with a nasty, "You suck"/Idaho Dad, A Family Runs Through It. More here.
Question: Are girls meaner today than they were during your formative & teen years?

---
---