Thu., Oct. 28, 2010, 12:20 p.m.
Cindy: Red Lights Test My LBTS
I've been seeing red a lot, lately. No, I haven't been angry. I'm talking about traffic lights. There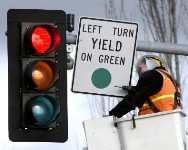 are 252 traffic lights in the city, and I believe I've been stuck at red lights at half of them. This has seriously aggravated my LBTS (Low Boredom Threshold Syndrome). I tried timing how many minutes I spend each day waiting for lights to change, but I also suffer from MDD (Math Deficiency Disorder). Recently, I updated my Facebook status update while trapped at the Division Street and Wellesley Avenue intersection. According to city signal operations engineer, Valla Melvin, I really didn't sit there for 20 minutes – it just felt that way/Cindy Hval, Washington Voices. More here. (SR File Photo: Liz Kishimoto)

Question: How many signal lights do you sit at each day? How many minutes do estimate you spend waiting for the light to change?
---
---