Fri., Oct. 29, 2010, 9:50 a.m.
Gookin Supports D's In Top Races
My OpenCDA blog buddy Dan Gookin is in trouble, if loyalty oaths and supporting party candidates 100% are important next time he tries to run as a Republican. In making predictions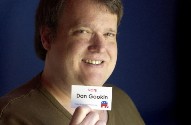 and observations re: select races, Gookin correctly surmises about Phil Hart: "While Hart may have an IQ of 160, politically his IQ is half that." And then goes on to say in a post that he's voting for three Democrats for statewide office -- Eldon Wallace (lieutenant governor), Bruce Robinett (controller), and Mack Sermon (secretary of state). However, he's standing by Superintendent of Schools Tom Luna. Not only does Gookin admire Luna, but he thinks Democrat Stan Olson is a "piece of work" and "a dick" (just repeating what he wrote). All in all, it's a colorful read and gives insight into the inner workings of someone that Duane Rasmussen tried to out during the last City Council election as an individual who wasn't truly a Republican. Seems Duane was right. Full post here.

Question: What do you make of Gookin's predictions and observations?
---
---