Sat., Oct. 30, 2010, 6:23 a.m.
Spokane To Rally To Restore Sanity
After Glenn Beck's "Restoring Honor" rally at the national mall, fans of Stewart's Daily Show and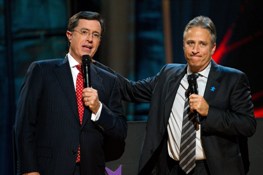 Colbert's Colbert Report wanted (Jon Stewart, right) and (Stephen Colbert) to put on a rally of their own. And so they will. Tomorrow, from noon to 3 pm EST, Stewart will gather his followers in Washington D.C. for a "Rally to Restore Sanity." Enough with the rallies for the crazies, the extremists, and the screamers, Stewart said. Here's a rally for the rest of us, those who believe their opponents are, in all likelihood, not Hitler. Who are unwilling to boil down foreign policy to a 1:1 blood-oil conversion. Who believe words like "socialist," "communist," or "antichrist" should be reserved for actual socialists, communists, or false prophets claiming the mantle of Christ and ushering in seven years of Armageddon. It's a cry, not for change or for revolution, but for being decent and reasonable/Daniel Walters, Inlander. More here.
Question: What do you make of Jon Stewart's national "Rally to Restore Sanity" today?
---
---