Thu., Sept. 2, 2010, 12:25 p.m.
Front Porch: Mother of 4, Heel Thyself
They called to me. They twinkled at me from among sensible square-toed pumps and frivolous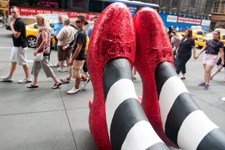 flip-flops trimmed with plastic daisies. They glittered. They sparkled. They shone. I didn't even intend to look at shoes as I scanned the racks at my favorite thrift store, but a shaft of sunlight lit up the golden shoes. If angel choirs approve of 4-inch stiletto heels made by Fredrick's of Hollywood, than those angels were singing hallelujah, as I reached for the shoes/Cindy Hval, Front Porch, Washington Voices. More here. (AP file photo: Six-feet-tall ruby red slippers are shown outside of Madame Tussauds in New York in mid-July)
What kind of shoes are you wearing at the moment?
---
---