Blanchette: Idaho Defense Stars
Before the Humanitarian Bowl went all wild-hairs-and- whoopie-cushions last December, Idaho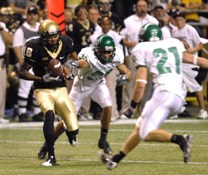 coach Robb Akey had the play of the day – fixing his stare directly into the ESPN camera at halftime and commanding, "Watch the second half – you're going to love it!" He could have spent halftime Thursday night handing out similar assurances to the 11,466 at the Kibbie Dome, section by section. Little to love up to that point. Much more afterward. But then, that's the way these things often go, full of halts and hiccups – season opener, playing at home, against a predictably overmatched opponent and with three months' worth of expectation and possibility attached. Not that the Vandals know all that much about it – this is was the first time in 13 years all those things had dovetailed on the same evening/John Blanchette, SR. More here.
Cutline:  Idaho's Armauni Johnson hauls in the catch between  North  Dakota defenders Dominique Hawkins (30) and Joel Schwenzfeier in the second quarter Thursday. (AP Photo/Lewiston Tribune, Kyle Mills)

Question: Any of you have any complaints about Idaho's 45-0 whipping of North Dakota?
---
---