Sat., Sept. 4, 2010, 10:03 a.m.
Ex-KKK Wizard Duke In Sandpoint Today
In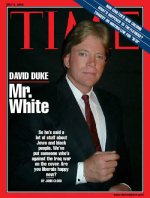 the Bonner County Bee, reporter Keith Kinnaird reports that David Duke, the former grand wizard of the Ku Klux Klan, will be in Sandpoint today seeking support for a possible presidential campaign (see Aug. 28, Aug. 31 items on Duke Web site). Apparently, Duke posted the announcement on his official website that he will speak on "white civil rights" at America's Promise Ministries as part of a nation wide tour to discuss "the critical issues facing America and the world and the possibility of entering the Republican primaries for president of the United States," the Bee story said. Laura Bry, president of the Bonner County Human Rights Task Force learned about Duke's visit while checking a social networking site. "It's all over Twitter," she told the Bee. More here.
Question: Why would Duke go to Sandpoint to gauge support for his presidential candidacy?
---
---