Tue., Sept. 7, 2010, 11:50 a.m.
Dennis: Giving Up Our Land-line
Susan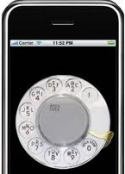 and I did it. We FINALLY got rid of our land-line, effective Sept 9th...and we're livin' ONLY in the world of her cell and my iPhone. ... Not a big deal to a lot of people, but we've had that number for almost 20 years. Kid's grew up memorizing it, school nurses had it, all our family members had it. I used it when I called EVERYBODY about the birth of our little "surprise guy" (Colin). When I was too steeped in grief, my daughter, Meg, used it to cal all our family and friends, telling them of the death of her other brother, Nate. My first grandson, Cole, called me on it to talk to "his Grand-Pop". ... It's the line of our life....but not the line of the future. And we decided that we were done/Dennis Mansfield. More here.
Question (for those who have given up their land line): Do you miss the land line?
---
---