Wed., Sept. 8, 2010, 11:15 a.m.
Daniel To Enter Post Falls Lions Den
County Clerk Dan English tells Huckleberries Online that he has accepted an invitation from Linda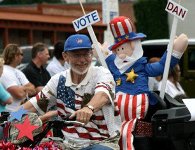 Cook to debate Republican opponent Cliff Hayes at the Panhandle Pachyderm Club luncheon at Garden Plaza (by Post Falls WalMart) at noon Friday, Sept. 17. Hayes, the former police chief and administrator of the city of Post Falls, is challenging for the clerk's seat held for years by Democrat English. Making this debate even more interesting is the fact that it comes a day after the four days assigned by Judge Charles Hosack for Jim Brannon's lawsuit against Councilman Mike Kennedy in the 2009 Coeur d'Alene municipal elections. Brannon supporters have tried to blame English for what they claim are tabulation mistakes on the part of his office that resulted in Kennedy's 5-vote win over Brannon.
Question: Is English wise to take on Hayes in a debate sponsored by an organization that's probably in his opponent's corner?
---
---