Fri., Sept. 10, 2010, 12:15 p.m.
Vestal: Kirkpatrick's Lecture Irrelevant
Basic information about the shooting of Wayne Scott Creach has been slow to emerge and shamefully scarce. Just days earlier, (Spokane Police Chief Anne Kirkpatrick's) department had issued a news release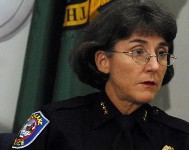 describing the Aug. 25 event as a "close encounter" with a "verbal exchange" – paltry, insufficient generalities that could have accurately been stated the morning after the shooting. Other facts, such as the now notorious vacation of Deputy Brian Hirzel, dribbled out while the cops played PR defense. The idea that the department owes the public an accounting – or that this vacation might strike us as outrageous – seemed not to register. So when Kirkpatrick began making her statement on Tuesday, one could have been forgiven for assuming she planned to discuss the shooting. ... But no. What Kirkpatrick did was offer a lecture on "fatal shooting officer-involved protocol," an irrelevancy that seemed aimed primarily at rescuing the sheriff's reputation/Shawn Vestal, SR. More here. (SR file photo, of Anne Kirkpatrick)

Question: Why do police -- particularly Spokane authorities -- spend so much time covering their tails when one of theirs goofs up? Do they think people are going to simply quit asking about a controversy like the shooting of a pastor on his property?
---
---