Mon., Sept. 13, 2010, 3:50 p.m.
CdA Teens Were Chased Before Fatality
The two Coeur d'Alene teens who were killed in a single-car rollover near Twin Falls were chased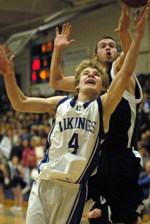 at one point by several people in a vehicle after an altercation at a party early Sunday morning, according to a press release from the Twin Falls Sheriff's Department. A short while later, Devon Austin, 19, and Ryan Reinhardt, 18, both Coeur d'Alene High athletes, were killed when the 1998 Toyota Camry that Reinhardt was driving failed to make a curve and rolled several times. Austin, the Idaho Gatorade Player of the Year in baseball, and Reinhardt, a defensive starter on the 2009 Coeur d'Alene High football team, were pronounced dead at the scene. Another passenger, Jessica Duran, 19, was treated and released from St. Luke's Magic Valley. (SR file photo from Jan. 9, 2009: Coeur d'Alene's  Devon  Austin, left, battles Lake City's Ben Frisbie for a rebound.)

An early morning crash in Twin Falls County claimed the lives of two College of Southern Idaho students and injured another.  18 year old Ryan Reinhardt, 19 year old Devon Austin and 19 year old Jessica Duran, all of Coeur d'Alene Idaho, left a party in the early morning hours of September 12, after they were involved in a verbal altercation with others at the party.  At one point they were chased by several people from the party in another vehicle.  Following the chase, Reinhardt failed to make a curve in the road, and his vehicle, a 1998 Toyota Camry rolled several times.  Law enforcement received the call at 1:02 am, both Reinhart and Austin were pronounced dead at the scene.  Duran was treated and released from St. Luke's Magic Valley Regional Medical Center. Excessive speed and alcohol are believed to be factors.  The incidents leading up to this crash are still being investigated.  Anyone with information is encouraged to contact the Twin Falls County Sheriff's Office at 208-735-4398.
---
---