Tue., Sept. 14, 2010, 9:38 a.m.
Chamnesses Encounter Private Eye
Major John Chamness of the Kroc Center provided the following information re: an encounter last Friday night with a private investigator involved in Brannon-Kennedy case: I had just walked outside when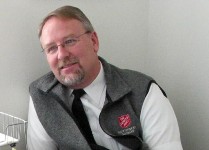 this lady pulled up and starting walking toward our house. She asked if I was John Chamness and if Martie (Lani) Chamness also lived here. As she said this Lani walked out. She than said she was working for the city of Coeur d Alene doing some research on some voting irregularities and asked my wife who she voted for. I interrupted this person who did not give me her name and said that my wife did not need to share who she voted for as this was confidential information. I than (sic) asked her who she worked for and she said she worked for the city of Coeur d'Alene and was just here to do some research for the city for the upcoming case to clear up any irregularities. I asked her again who she worked for and she said that she was working for a private investigative firm for the city of Coeur d'Alene. So I asked her if she was working for Starr Kelso and Jim Brannon and she said no she works for a private investigator. And I asked if Starr Kelso had employed her firm and she said no. I than noticed she was palming a small recorder and so I asked her if she had recorded our conversation and she said yes she had. Full statement by John Chamness here.
---
---