Fri., Sept. 17, 2010, 8:53 a.m.
McCrory: Onto Idaho Supreme Court?
I've always suspected that the end game for Team Brannon was a challenge of the 2009 Coeur d'Alene City Council election before the Idaho Supreme Court. (Who knows ... mebbe in the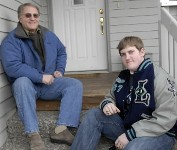 collective minds of the Team Brannon Brain Trust Jim Brannon's 5-vote loss to Mike Kennedy is worthy of U.S. Supreme Court consideration.) Now, none other than Bill McCrory, who has been seen regularly hobnobbing with Brannon attorney Starr Kelso this week, may have finally revealed the end game for the Brannon challenge when he commented under Mary's OpenCDA.com blast at City Attorney Mike Gridley today. After praising Team Brannon for its courageous fight against "government laziness, incompetence, and corruption in Coeur d'Alene," McCrory says, "Regardless of the outcome of the election contest, this is almost certain to end up in the Idaho Supreme Court, hopefully on a rocket docket." See McCrory's full comment (6:53 a.m.) here. (SR file photo: Starr Kelso and son, Matt, who has been helping his father during the court trial.)

Question: Can you imagine Brannon's 5-vote loss to Kennedy being fare that's worthy of Idaho Supreme Court attention?
---
---