Fri., April 1, 2011, 10:58 a.m.
Colvilles Join Stossel Protest
The Chairman of the Confederated Tribes of the Colville Reservation, joining Tribal leaders throughout Indian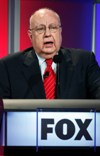 Country in protest of Fox News' latest rant by commentator John Stossel, has some advice for Fox President Roger Ailes: don't fire Stossel, re-educate him. Michael O. Finley today sent the attached letter to Ailes, recommending that Fox attempt to improve its dismal reputation for biased reporting by sending Stossel to a course on American Indian History and then to live on a reservation for a month. Stossel had claimed, on a recent segment of Fox and Friends, that American Indians have benefited from the generosity of the federal government more than any other group/Colville Indian Tribe news release. Full release here. And: Letter to Roger Ailes of Fox News here. (AP file photo, of Fox President Roger Ailes)
Question: Do you understand the concern of American Indians, including the Coeur d'Alene and Colville tribes? Or do you think they're overreacting to comments by a Fox News talking head?
---
---