Tue., April 5, 2011, 10:25 a.m.
'Instant Human: Just Add Coffee'
Journalist Steven Smith said he is a caffeine addict. "As with all addiction, it defies real explanation. You know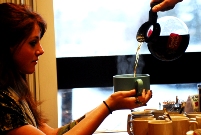 the taste isn't great but I love the taste," said Smith, temporary faculty lecturer of the School of Journalism and Mass Media. "It's not always the best thing to consume, sometimes you get jittery and its keeps you from going to sleep, but its just become so much a part of my daily routine and my life that I can't imagine being without it. I am an addict." Smith said he started drinking coffee as a junior in high school and he probably drinks about three quarts of coffee a day — a consumption that has been consistent for the last 30 or 40 years. "I am a coffee slut," Smith said/Rhiannon Rinas, RAWR, UIdaho Argonaut. More here. (photo illustration by steven devine | rawr)
Question: How addicted to coffee are you?
---
---