Tue., April 5, 2011, 1:20 p.m.
McDonalds To Hire 50,000 April 19
McDonald's said Monday that it is planning a one-day hiring spree of 50,000 new workers on April 19 for its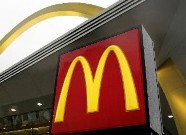 U.S. restaurants. McDonald's (MCD, Fortune 500) said that these new "Mcjobs" will include crew and management positions, part-time and full-time. McDonald's, which has 14,000 restaurants in the United States, said the hires will occur nationwide. "We're excited to offer 50,000 new jobs, all across America, all in one day," said Jan Fields, president of McDonald's U.S.A./CNNMoney.com. More here.
Question: Would you work for McDonalds Hamburgers, if you could find no other employment?
---
---