Wed., April 6, 2011, 4:07 p.m.
Groene Finds Voice In Social Media
(Steve) Groene wants a national one-strike law for violent sex offenders. And he is getting support. In less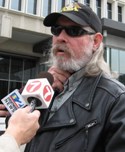 than a week Groene's Facebook page for his son's Dylan and Slade has tripled in followers. Groene's boys were two of Duncan's five murder victims. His daughter Shasta was tortured but survived. Groene believes a one-strike law may have saved his family. "Who's to say that if this hadn't been done to my boys that one of them might not have been president some day and been the best president this nation ever had," said Groene/KREM. More here. (SR file photo: Betsy Russell)
Question: Should there be a national one-strike law for violent sexual offenders?
---
---