Fri., April 8, 2011, 8:51 a.m.
Luna 'Reform' To Face Referendum
With Gov. Butch Otter set to sign Senate Bill 1184 into law this morning, parents, educators, and community leaders will file a preliminary petition with the Secretary of State's office today to overturn the law via Idaho's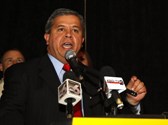 referendum process. Organizers will gather in the Idaho Capitol rotunda at 11:30 and deliver the petition to the Secretary of State's office before noon. "We have to take this step of pursuing a referendum on these bills because thousands of emails, thousands of people attending rallies across Idaho, and the testimony of parents, school board members, school administrators, and teachers did not matter to Gov. Otter and a majority of the state Legislature," said Mike Lanza, chair of Idahoans for Responsible Education Reform and co-founder (with Maria Greeley) of Idaho Parents and Teachers Together/Idahoans for Responsible Education Reform news release. Betsy Russell has full story here.
Question: Which has a better chance at succeeding in Idaho -- the referendum against Tom Luna's education reforms or the petition drive to recall Tom Luna?
---
---