Fri., April 8, 2011, 1:06 p.m.
Reporter Mistaken For Meth Dealer
A not-so-funny thing happened to former Idaho Reporter staffer Jay Patrick, son of Coeur d'Alene Press editor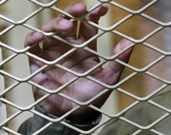 Mike Patrick, on his way to adjudicate his case on fishing without a license in Cache County, Utah. He was mistaken for a notorious methamphetamine trafficker -- one of Nevada's most wanted -- and booked in the county jail for two days. Patrick, who now works in Boise for the Oregon-based Capital Press, told the Salt Lake City Tribune: "I was pretty scared. You hear of people put on death row who didn't do it, so I'm thinking it's feasible I could go to prison for this." The Tribune story continues: "An attorney was able to find articles he wrote and time cards showing he wasn't in Mesquite, Nev., on the dates he was accused of selling meth." You can read the rest of the story here. And: KTVB story and video here.
Question: Have you ever been mistaken for somebody else?
---
---