Mon., April 11, 2011, 9:08 a.m.
Hayden To Collect Boat Launch Fees
Under gray April skies, Bill Whisner pulled his fishing boat ashore at the Honeysuckle Beach ramp on Sunday. Hayden Lake was cold and high, and the dock alongside the launch was partially submerged. Guiding the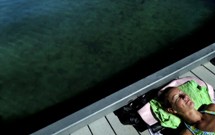 boat and trailer into position, the fisherman jumped through a couple inches of lake water that had washed over the walkway. Whisner had launched his boat free of charge, per usual. But starting next month, fees will be collected at the Honeysuckle Beach ramp, city of Hayden officials said. The fees will be in effect from Memorial Day to Labor Day. The daily access fee for boats is $6 for city of Hayden residents and $8 for everybody else. A season pass is $30 for residents and $60 for those living outside the city/David Cole & Nick Rotunno, Coeur d'Alene Press. More here. (SR file photo for illustrative purposes, of sunbather on Honeysuckle Beach launch)
Question: Will the $6 launch fee at the Honeysuckle Beach launch prompt boaters to stay away from Hayden Lake this summer?
---
---