Mon., April 11, 2011, 2 p.m.
Gandhi To Speak At Task Force Event
Arun Gandhi, grandson of legendary Mahatma Gandhi, will be the featured speaker for the 14th annual Human Rights banquet of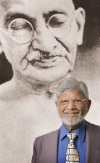 the Kootenai County Task Force On Human Relations this evening at the Coeur d'Alene Inn. Arun Gandhi grew up in South Africa during apartheid and frequently was beaten by both white and black youth because of his race. When he was 12, his parents sent him to India to be with his famous grandfather when they discovered how angry he'd become. Through his grandfather's guidance, he learned to appreciate peaceful nonviolence. In 1991, Arun Gandhi and his late wife, Sunanda, founded the M.K. Gandhi Institute for Nonviolence at the University of Rochester in New York. Gandhi's speech is titled: "Lessons learned from my grandfather: Nonviolence in a violent world." The event begins at 5:30 with a social hour, followed by dinner at 6:30. Story here.
Question: What is the greatest challenge facing human rights leaders in North Idaho today?
---
---