Mon., April 11, 2011, 10:09 a.m.
Wolf Delisting Part Of Budget Bill
Two Western lawmakers say gray wolves in Montana and Idaho would be taken off the endangered list under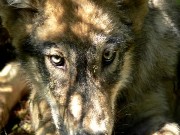 the budget bill pending before Congress. Inclusion of the language to lift protections for wolves was confirmed by the offices of Montana Democratic Sen. Jon Tester and Idaho Republican Rep. Mike Simpson on Saturday. A Simpson spokesperson said the bill also would prevent courts from reversing any Congressional action/Talk Radio 950 KOZE. More here. (AP photo for illustrative purposes)
Question: Who would you rather have oversight of wolf populations in Idaho, Montana, & Wyoming -- the courts or Congress?
---
---