First, I will admit that I'm guilty of labeling people. Many of us are. Now onward. During his eloquent speech at the 14th annual Human Rights Banquet Monday, Arun Gandhi said that our relationships are poor because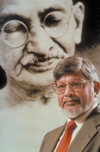 they're based on self-interest, not respect. "We're interconnected," he said. Then, he went on to say that "we have so many labels to identify people. We build a wall every time we put a label on a person." All of which made me think of the "conservative" and "liberal" labels that we throw around Huckleberries Online. And worse, at times. One of the first things I noticed when I began this gig is that few people are totally conservative. Or totally "librul." Most of us have cross-currents below the surface, depending on the issue. Some conservatives can be liberal when, for example, they're discussing a social issue. Liberals can be fiscal conservatives. Moderates, etc. Then there are a host of other influences from are personal history, culture, schooling, etc.
Question: What value do you see in labels?