Fri., April 15, 2011, 1:37 p.m.
NEA Prez: Luna Plan 'Political Payback'
The president of the National Education Association, Dennis Van Roekel, spoke to the Idaho Education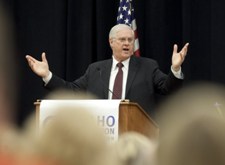 Association's delegate assembly today in Boise, and spoke out against the Idaho school reform bills pushed by state schools Superintendent Tom Luna. He likened the Luna legislation to moves against public employee unions in Wisconsin and other states, and said it's "not about education. What it's about is political payback. It's about wealthy CEOs who put themselves before country and put making money before everything else. It's the wrong direction for America"/Betsy Russell, Eye On Boise. More here. (AP Photo/Idaho Statesman photo, Katherine Jones, of Dennis Van Roekel in Boise today.)
Question: Do you agree with NEA prez Dennis Van Roekel that Superintendent Tom Luna's plans to overhaul public education was more about political payback than actual reform?
---
---