OTV/Get Out! Review: Garnet Cafe
The Garnet Café sits in a converted house directly behind midtown Coeur d'Alene's sushi hotspot the Syringa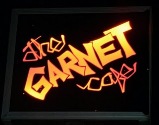 Café, and was hatched earlier this month by that restaurant's owners Viljo and Autumn Basso. I've always enjoyed Syringa for seeming like a little spot of Seattle in the middle of North Idaho, and the Garnet Café has the same hip, urban vibe. There's a dim-lit bar lined with tall wooden stools, the bandying about of phrases like "duck confit" and "house cured salmon gravlocks", and a selection of unconventional framed photos and art (our favorite was a wild painting of a gun-welding octopus)/OrangeTV, Get Out! North Idaho. More here.
DFO: Isn't that the old Papino's building?
Question: When did you last try a new restaurant in North Idaho? Can you tell us about your experience?
---
---