Mon., April 18, 2011, 1:30 p.m.
Klay Thompson Announces For Draft
Klay Thompson filed the paperwork today for the NBA draft, though he won't be signing with an agent. That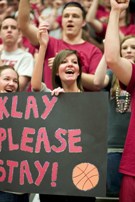 gives him until May 8 to decide to return to Washington State if he wants. But after listening to him talk for about 15 minutes, it was pretty clear the junior will only be back at WSU next season if something extraordinary happens. We'll have a story up soon/Vince Grippi, SR. (Moscow-Pullman Daily News/AP file photo, Dean Hare: Washington State student Emily King holds a sign asking junior guard Klay Thompson to stay for his senior season March 23, before Washington State's game against Northwestern in the quarterfinals of the NIT in Pullman)
Question: Which NBA bound WSU Coug has a better chance of sticking -- DeAngelo Casto or Klay Thompson?
---
---