Tue., April 19, 2011, 5:25 p.m.
City Settles w/Sanders Beach Owners
The City of Coeur d'Alene and the owners of eight homes along East Lakeshore have reached an amicable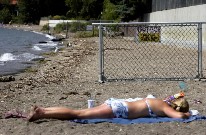 conclusion to six lawsuits arising from disputes regarding Sanders Beach. Orders dismissing the lawsuits, some of which date back to 1998, have been signed and entered. In addition to settling the six lawsuits, the city acquired the homeowners' rights to build docks and also acquired over sixty feet of beach frontage. In exchange, the city paid a total of $278,500.00 to purchase the property and acquire the dock rights, and also amended the Shoreline Ordinance to allow fences between public and private property at 12th and 15th streets/Victoria Bruno, Coeur d'Alene Today. More here. (SR file photo)
Question: Are you happy with the way the long-running Sanders Beach dispute finally ended?
---
---