Thu., April 21, 2011, 8:25 a.m.
Luna Seeks A Few Good Techies
The State Department of Education is now accepting applications and nominations for anyone interested in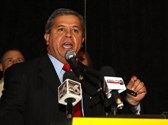 serving on the Students Come First Technology Task Force, Superintendent of Public Instruction Tom Luna announced today. Under Senate Bill 1184, the Superintendent of Public Instruction is required to convene a task force to help in implementing the technology components of the Students Come First law. Specifically, the task force will study and develop plans for the one-to-one ratio of mobile computing devices in high schools/Superintendent Tom Luna news release. More here.
Question: Are you interested in being part of Tom Luna's Students Come First Technology Task Force?
---
---