Fri., April 22, 2011, 5:35 p.m.
Bryan Students Find Tiles w/Asbestos
Two Bryan Elementary students possibly digging for "leprechaun gold" in the northwest corner of the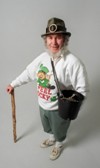 playground (near the old oak tree) found broken, asbestos-laden tiles instead. Huckleberries has received a copy of a letter sent out by Bryan Elementary Principal Joel Palmer this afternoon assures parents that the type of asbestos found in the tiles, according to a lab report, doesn't "contain the type of asbestos that becomes airborne when disturbed and causes serious health dangers." The Coeur d'Alene school, which is located on Harrison between 7th & 10th streets, took the following measures to ensure student safety today: The area was covered with a plastic tarp, filled with soil, covered with sod and then fenced off." Huckleberries has learned from Bryan sources that younger students believe that a leprechaun lives in the old oak tree and has buried gold somewhere nearby. That's why some of them dig in the area. You can read Principal Palmer's letter to parents here. (SR file photo for illustrative purposes)
Question: Is the school taking the right steps to handle the problem?
---
---