Tue., April 26, 2011, 3:46 p.m.
NI Blogs: Laughing Dog Goes Canada
." What Fred (Colby, co-owner of Laughing Dog Brewery of Sandpoint) was most excited about though was the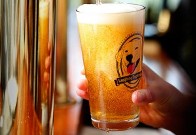 expansion of the brewery that would be happening soon with the addition of five more fermenter's. When I asked him if that had anything to do with the rumor I heard about them possibly adding canning equipment to the brewery, he replied "We are still looking at that, but nothing is set in stone". What he did tell me is that the reason for the expansion is that they are going to become a internationally distributed craft beer with the addition of British Columbia and Alberta, Canada to their distribution area. (They are currently in 30+ states in the US)/Jamie Lynn Morgan, Brewing Some Fun. More here.
Hucks Online numbers (for Monday, April 25): 8132/4923
Question: Have you ever tasted a Laughing Dog Brewery beer?
---
---