Wed., April 27, 2011, 9:48 a.m.
Benewah Deputizes 5 Tribal Officers
The long-running dispute between Benewah County and the Coeur d'Alene Tribe was partially resolved earlier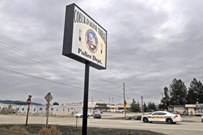 this month. Sheriff Robert Kirts deputized five tribal police officers. The action came two months after an effort by the tribe to pass a state law that would give tribal officers authority over non-tribal members failed. Benewah County lobbied against the legislation, which generated considerable news coverage at the time. "I deputized five of their officers who I know are good officers and work well with our officers," Sheriff Kirts said. Tribal officers were deputized by the county for several years before Sheriff Kirts cancelled the agreement when tribal officers refused to comply with his instructions/Dan Hammes, St. Maries Gazette-Record. More here.
Question: What do you make of this development?
---
---