Wed., April 27, 2011, 1:06 p.m.
HMO: Avista Should Open Dam Gates
HMOffsuite: I surely don't want to belabor the point, but Avista best get those gates open at the Post Falls dam and empty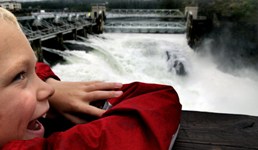 the lake some, or flooding will be severe this year. They were negligent a few years ago, imo, in not anticipating the runoff and flooding was major. With huge accumulations of snow in the mountains still occurring and virtually no melt, the recipe is for big time grief. The water in the lake is like money in the bank to them but I think their civic duty should prevail. If Avista Dan is around, I hope they get the message. This record rainfall will do nothing but make the potential problem more likely.
Question: Does anyone have any information on how Avista is anticipating the potential flooding and/or what they intend to do about it?
---
---