Wed., April 27, 2011, 8:41 a.m.
Vestal: 'Stolen' Hotdog Baffles Jurors
Call it the great hot dog caper. Or maybe the greatly overblown hot dog caper would be more accurate. One day last December, Eastern Washington University student John Richardson got himself a German sausage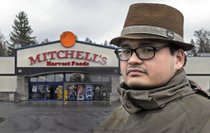 at the self-serve counter at Mitchell's IGA in Cheney. He ate it as he shopped for peanut butter (crunchy), jelly, bread and other items. When he left, he forgot to pay for the 99-cent dog – though he did pay for more than $28 in groceries. Store managers approached him once he left the store, refused his efforts to pay for it, and held him for the police to arrive when things got heated. Thirteen weeks later, Richardson was found not guilty by a baffled jury with a minimum of deliberation/Shawn Vestal, SR. More here. (SR photo: Chris Anderson/John Richardson stands across the street from Mitchell's IGA in Cheney.)
Question: Have you ever walked out of a store after forgetting to pay for an item that you've eaten or that is in your possession?
---
---