Thu., April 28, 2011, 8:48 a.m.
Luna Foes Hire Signature Gatherers
Mike Lanza, chairman of Idahoans for Responsible Education Reform, says paid signature gatherers have joined volunteers to gather signatures to force a referendum on the three reform laws authored by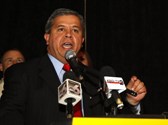 Superintendent of Public Instruction Tom Luna. Lanza said he doesn't know how many are working for the company hired for the job with money from the National Education Association on behalf of the Idaho Education Association. "The IEA took this step, and I endorse it, because we are serious about succeeding in this petition drive," Lanza said in an email. "Having paid signature gatherers is not unusual, as you know. They've been hired as insurance. We expect to collect at least 60,000 signatures just through volunteers"/Dan Popkey, Idaho Statesman. More here. (AP file photo)
Question: Do you agree with the move by Idahoans for Responsible Education Reform to pay signature gatherers for referendum and recall drives against Superintendent Tom Luna's reforms?
---
---