Thu., April 28, 2011, 9:12 a.m.
Kellogg Reporter Rips Mine Coverage
Seems Andie Tessler, a staff writer for the Shoshone News-Press two weeks out of journalism school, is "embarrassed" at the way the media has conducted themselves during coverage of the Lucky Friday Mine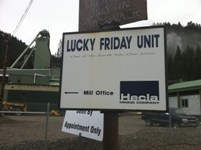 tragedy. In a News-Press column today, she said: "I have watched them walk the streets of Mullan without seeing them, speak to people in genuine distress without hearing them, and attend a heartfelt and moving vigil without actually being there. I am sickened. Being an objective journalist does not mean it is acceptable to sell your soul for a story; there must be a level of compassion and connection to the people around you or the integrity of your words is lost." I'd say young Tessler has lost her objectivity in an attempt to ingratiate herself to individuals that she will be covering in the Silver Valley. I'd also say that she certainly wasn't describing professional SR staffers Becky Kramer, Alison Boggs, and Kathy Plonka who have been covering the tragedy. She should name names and specific examples rather than slime a whole profession that knows a whole lot more than her how to deal with breaking news. You can read more of Tessler's column here. (AP file photo)
Reaction?
---
---