Fri., April 29, 2011, 10:05 a.m.
ISP: 'Intel' Tells Of Megaload Threats
Idaho State Police Capt. Lonnie Richardson told a hearing officer at the Highway 12 megaloads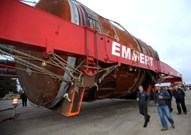 contested-case hearing today that ISP has received "intel" about "people who may want to interfere with the loads." He said, "There are organizations who would like to disrupt the movement of the load either by means of personnel or more severe." Richardson declined to provide more information, saying the intelligence was "confidential information." He said, "There have been threats," and said, "Everybody has got a different definition of terrorism"/Betsy Russell, Eye On Boise. More here. (AP file photo)
Question: Do you think there's a legitimate domestic terrorism threat to megaload shipments ... in Idaho?
---
---