Mon., Aug. 1, 2011, 2:33 p.m.
CPD Blues Seek Teen Girl Runaways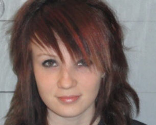 The Coeur d'Alene Police Department is currently looking for two female juveniles that are considered endangered runaways due to their age. Charity M. Jordan, 14 (left), and Tina L. Jewell, 15 (right), both of Coeur d'Alene, are friends and are possibly together. Both were reported by their parents to have left their residences in early this morning. Both girls have runaway together twice in the past year. Charity Jordan is 5'6, 140 pounds, with hazel eyes and brown hair. Tina Jewell is 5'2, 104 pounds, with hazel eyes and blonde hair. Anyone with information on the whereabouts of Jordan and Jewell are asked to contact Coeur d'Alene Police at 769-2320.
---
---