Mon., Aug. 1, 2011, 8:27 a.m.
SR Columns: KEA To Fight For Trees
Friends and foes alike listen when the respected Kootenai Environmental Alliance speaks. Sorta like the E.F.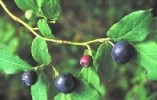 Hutton of the enviro world. That's why the Coeur d'Alene City Council should heed a KEA blog post re: the demand by the U.S. Army Corps of Engineers to level the picturesque trees along the Dike Road (aka Rosenberry Drive): "An incompetent Corps of Engineers and an inflexible FEMA are about to destroy a Coeur d'Alene treasure unnecessarily. The out-of-town and out-of-control federal agencies are blindly calling for the City of Coeur d'Alene to remove hundreds of mature trees from the dike that follows the lake and riverfront around City Park and North Idaho College"/DFO, Huckleberries, SR. More here.
---
---