Tue., Aug. 2, 2011, 9:22 a.m.
Bachmann Demands Biden Apology
Presidential candidate Michele Bachmann and possible presidential candidate Sarah Palin lambasted Vice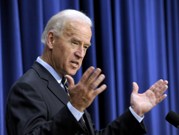 President Joe Biden Monday night for negative comments he allegedly made about the Tea Party. Biden was reported by Politico on Monday to have agreed with an argument by Rep. Mike Doyle of Pennsylvania, who apparently asserted that "[w]e have negotiated with terrorists" during a closed-door meeting with House Democrats about the deal to raise the debt limit. "They have acted like terrorists," Biden was said to have responded. The Hill reports that in an e-mail Monday night, Bachmann, R-Minn., condemned Biden's alleged statement and called on the vice president to apologize/CBS News Political Hotsheet. More here. (AP file photo, of VP Joe Biden)
Question: Should Biden apologize?
---
---