WEDNESDAY, AUG. 3, 2011, 9:17 A.M.
Woman: My Uncle Was D.B. Cooper
ABC News is reporting that it has found a woman who claims to have been the niece of the mystery man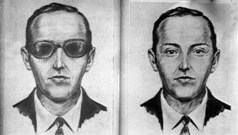 known as D.B. Cooper who hijacked an airplane here 40 years ago and parachuted out of it, never to be found again. In a report on "Good Morning America," a woman named Marla Cooper told ABC News that she had provided the F.B.I. with a guitar strap and a Christmas photo of a man pictured with the same strap who she said was her uncle, Lynn Doyle Cooper/Katherine Q. Seeleye, New York Times. More here. (1971 artist's sketch of D.B. Cooper)
Question: Would you be bummed if this woman is right -- and the identity of D.B. Cooper is confirmed?
---
---