Thu., Aug. 4, 2011, 11:19 a.m.
Woman Claims D.B. Cooper As Uncle
His last name is Cooper. And a woman calling herself his niece says he acted suspiciously before suddenly disappearing. But it remains to be seen if Lynn Doyle Cooper – the deceased man the FBI is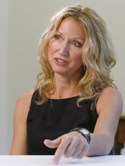 investigating in the 40-year-old D.B. Cooper skyjacking – will be positively tied to the fabled case. ABC News first revealed the name Wednesday in an interview with Marla Cooper, of Oklahoma City, who said she is Cooper's niece and is cooperating with the FBI. Steve Dean, the assistant special agent in charge of the criminal division of the Seattle FBI office, confirmed Wednesday that Marla Cooper had contacted the bureau and turned over items to assist in the investigation/Seattle Times. More here. (AP photo: Marla Cooper speaks during an interview in Oklahoma City)
Question: Who is the most notorious relative in your family tree?
---
---