Fri., Aug. 5, 2011, 8:58 a.m.
In Defense Of 'Small Potatoes Bowl'
It's only a matter of time before some wisecracking college football writer dubs the newly renamed Famous Idaho Potato Bowl the Small Potatoes Bowl. Maybe it's already happened. It's been a whole day and a half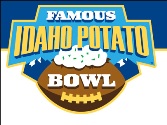 since Boise's postseason bowl game introduced its new moniker to the world. So who knows? We're not much for this newfangled Googling thing here on the back 40 (and we're not talking 40 yard line, either). Smart alecks, your harvest time has arrived. If you can't find a way to bash Boise's contribution to college football's postseason mashup, turn in your credentials. Meanwhile, Idaho, put on your game face and develop a thick skin. No biggie: after all, we all know the skin's the best part of a baked-to-perfection russet/Kevin Richert, Idaho Statesman. More here.
Question: What current college football bowl name is currently the worst?
---
---