Fri., Aug. 5, 2011, 1:14 p.m.
Rex Rammell: There Will Be Blood'
Fresh from his guilty plea to criminal contempt, perennial candidate Rex Rammell says "The federal government will fail. It is inevitable." Rammell also reviews his July poaching conviction, which he is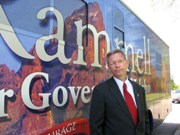 appealing. Rammell, who spoke of the "White Horse Prophecy" during his 2010 gubernatorial race, wrote, "It has been prophesied that there will be 'blood in the streets.' Fathers will turn against their sons and sons will turn against their fathers. Mothers will turn against their daughters and daughters will turn against their mothers. People will be starving. Crime will become rampant. America will be on the verge of crumbling to pieces." His opinion piece may again draw on the prophecy, attributed by some to Joseph Smith, that the Constitution of the United States would "hang by a thread" and be saved by elders in the Church of Jesus Christ of Latter-day Saints, of which Rammell is a member/Dan Popkey, Idaho Statesman. More here.
Question: Do you believe in the literal fulfillment of religious prophecy?
---
---