Fri., Aug. 5, 2011, 8:13 a.m.
Soldier: 'I'm Lucky I'm Alive'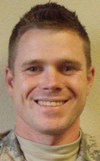 The future is helping Staff Sgt. Jason Rzepa get through the wounds of war. Rzepa (pronounced Zeppa) had both of his legs amputated below the knee due to injuries sustained during a roadside bomb attack in Baghdad last month. "I can't get down about it," the Coeur d'Alene 30-year-old said on Thursday from Brooke Army Medical Center (BAMC) at Fort Sam Houston, Texas, in the San Antonio area. "I've got a family and two kids and a future planned out. I can't let this get in the way. I'm lucky I'm alive"/Brian Walker, CdA Press. More here.
Question: Are you as amazed as I am re: the bravery of this soldier?
---
---