Mon., Aug. 8, 2011, 8:14 a.m.
District 3: How Far Right Can You Go?
Conservatism is practically a religion in Idaho's legislative District 3, the district that elected tax-protesting state Rep. Phil Hart four times and this year added two like-minded lawmakers he recruited to run. "I was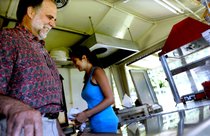 considered a radical to my friends in California, and then I got up here and found out I was a moderate," said Vito Barbieri (pictured), a first-term state representative and, like many District 3 residents, a California transplant who moved north. The district, which takes in Hayden, tony Hayden Lake, the once-agricultural but fast-developing Rathdrum Prairie and little towns like Spirit Lake and Athol, has seen massive development and population increase over the last decade, but its conservative nature is nothing new – the last time a Democrat was elected here was in 1994. No Democrat has even run for the Legislature since 2002, and then there was just one candidate, who lost/Betsy Russell, Eye On Boise. More here.
Question: Would you want a hardline conservative trio like Vick-Barbieri-Hart trio to represent you?
---
---