Mon., Aug. 8, 2011, 8:41 a.m.
Hucks: I.P. Freely Waters Sidewalks
A whole lotta peein's goin' on in downtown Coeur d'Alene after hours. And, judging from the latest Downtown Bar Report, not all of that urine is finding its way into proper receptacles. In a recent 12-day period, CPD Blues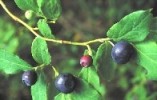 arrested eight drunks for public urination, including a 26-year-old man we'll call I.P. Freely. Seems I.P. suffers from a small bladder or a fundamental lack of modesty. Case in point: I.P. was caught watering the sidewalk after exiting the Rendezvous bar en route to Las Palmitas. When the cops asked I.P. why he didn't pee at the Rendezvous, the drunk said the restrooms were full. Then he admitted he'd gotten a citation in June for public peeing. He'd just paid off the $190 for that fine two days earlier. One of many stories in our Urine-Part-Of-Town/DFO, Huckleberries, SR. More here.
Other SR columns:
Question: Have you ever accidentally witnessed someone urinating in public? Want to share your reaction?
---
---