Mon., Aug. 8, 2011, 2:09 p.m.
Megaload Promoters Target Spokane
Imperial Oil/ExxonMobil has announced that some of its controversial megaloads, instead of traveling a scenic route in Idaho, may instead rumble through Spokane on U.S. Highway 395 and I-90. The company said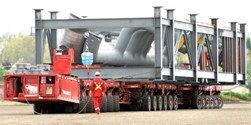 "lengthy permitting delays" for the original route across scenic U.S. Highway 12 from Lewiston, Idaho to Montana, then north through Montana to Canada, have forced it to look at alternative routes, though it still will pursue the Highway 12 route. "We have met or exceeded the requirements typically imposed on other oversize load shippers that have used the U.S. 12 route," said Chris Allard, Kearl senior project manager for the oil company. "We will continue to pursue the permits for those full-sized modules through Idaho and Montana, which is more efficient and cost effective. However, we will also move forward with alternative routes to maintain project schedules"/Betsy Russell, Eye On Boise. More here. (AP/Lewiston Tribune file photo)
Question: Do you expect residents of Eastern Washington & Spokane to squawk about megaloads?
---
---