Wed., Aug. 24, 2011, 5:15 p.m.
Gozzer Developer Wants Camp Easton
The Spokane office of the Boy Scouts of America is awaiting a formal offer from a North Idaho developer before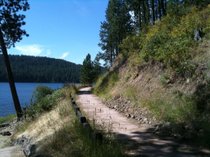 considering whether to sell Camp Easton, a 380-acre camp it has operated on Lake Coeur d'Alene since 1929. Tim McCandless, the CEO of the Inland Northwest Council of Boy Scouts, said Wednesday that Discovery Land Co. is offering to trade about 270 acres on the west shore of Lake Coeur d'Alene for about 380 acres at Camp Easton, on the lake's east shore. Only after Discovery makes an offer will the council look over the deal, he said/Tom Sowa, SR. More here. (SR photo: Addy Hatch)
Question: Should the Boy Scouts sell Camp Easton to Gozzer Ranch developer Discovery Land Co.?
---
---