Wed., Aug. 24, 2011, 9:25 a.m.
Poll: GOP Insiders Don't Want Palin
The Republican establishment inside the Washington Beltway may be pining for new candidates to enter the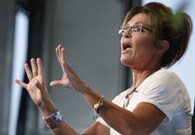 race for president, but two-thirds of influential local Republicans surveyed by The Huffington Post and Patch in the early primary and caucus states are satisfied with their choices. And while Sarah Palin is gearing up for a major speech in Iowa, just 8 percent want her to run. Sixty-three percent of the 169 influential Republicans surveyed in Iowa, New Hampshire and South Carolina in our second HuffPost-Patch Power Outsiders poll say they are satisfied with the candidates now running for president, while just 36 percent say they want to see more candidates get into the race/KHQ. More here. (AP file photo)
Question: Are you surprised that so few of the GOP establishment want Sarah Palin to run for president?
---
---