Wed., Aug. 24, 2011, 8:05 a.m.
Washington Monument Damaged
After taking a closer look at the Washington monument Tuesday, National Park Service officials found some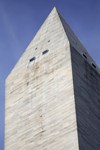 cracks at the very top of the world's tallest obelisk. Structural engineers plan to continue examining the monument Wednesday to decide how to best fix the 127-year old structure, which remains closed indefinitely after a 5.8 Earthquake struck Tuesday near Mineral, Virginia. The monument is the highest profile structure to suffer damage, perhaps because it is also the tallest: 555 feet. The landmark in downtown Washington near the White House is also the world's tallest stone structure/CBS News Political Hot Sheet. More here. (AP photo)
Question: Which monument in Washington, D.C., is your favorite?
---
---